Jamey Hampton
Throw Caution (Golden Ear Music)
By: Alex Steininger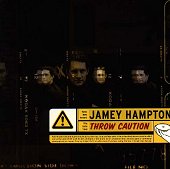 Portland, Oregon's Jamey Hampton is an artist on more than one level. As the artistic director of BodyVox, an international touring dance company, Hampton has choreographed and performed in music videos for bands such as U2, String, Soundgarden, John Fogerty, and Pat Metheny, as well as the 70th Academy Awards. Now, stepping into the world of music, Hampton's THROW CAUTION is a pop album you can, well, dance too.

"She's Crazy" is a wacky, funk-induced pop-rock bit that will have you bouncing around with its "Oh... She's Crazy" hook and the sheer magnitude of energy that runs through the album. "Sugar Pie" reels you in with a tired, yet refreshing pop beat while "Our Great Adventure" finds Hampton dwelling in some jazz influences. "The Struggle" gets your hips moving, and "Feeling Better" has you slowly moving to the pop groove.

Funk and jazz play a big influence in the album, but it is pop that runs the show. Strong amounts of pop charge at you, making you want to dance, or they subtly get under your feet with the same results. Hampton's lyrics aren't the greatest, but with his strong grooves and ability to get anyone and everyone dancing, it isn't the lyrics you'll be focusing on, rather the groove that will entice you. The graphic design is another story all together though, and I won't go into. Let's just say, it's well played out and on first glance, makes you want to throw this album in the garbage and never look back. I'll give this a B-.