Jamie Hutchings
The Golden Coach (Nonzero Records)
By: Alex Steininger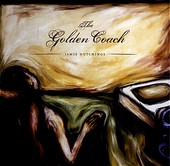 Front man for Australia's Bluebottle Kiss, one of the most respected underground rock bands in Australia (releasing records on both major and indie labels), Jamie Hutchings has made an impact on Australian music, influencing Silverchair's Daniel Johns and countless others. And after ten years of Bluebottle Kiss, releasing their latest, Revenge Is Slow only a short while ago, Jamie Hutchings, while Bluebottle Kiss looked to replace their drummer, recorded a solo record entitled The Golden Coach.

Favoring acoustic guitars over the layered, textured electric guitars of Bluebottle Kiss, Hutchings solo material, much like Bluebottle Kiss, highlights his emotional lyrics and heart-on-the-sleeve, yet slightly reserved vocal delivery.

"User Friendly" would not sound out of place on a Bluebottle Kiss record, albeit it would be one of their slower songs. The sparkle of the guitar cascading against Hutchings' heartening voice, the percussion and bass supplementing the song, allowing it a rock force that sits quietly behind its emotive pop frame.

"When Will It Make Sense To You," however, is purely Hutchings, as he goes beyond the confines of Bluebottle Kiss and delivers a mid-fi, semi-lush, weepy acoustic song with Hutchings' wife, Erin, softly echoing the melody in the background with her fragile voice.

"I Remember A Time When Once I Used To Love You", the only guitar and voice track out of the bunch, is another departure for Hutchings. He strips away all other compliments and breaks the song down to its basic principals, leaving nothing more than the chilling guitar strings and his fingers to make music and his voice to carry the song.

Bluebottle Kiss is still going strong, but the prolific Hutchings had to get these songs off his chest or he'd go crazy. Lucky for us, because he shells out eight songs that will give you the chills and make you smile, as he takes you through the characters of his life, as he seems them, and tells their stories. I'll give it an A-.