Cadillac Tramps
Live! (BYO Records)
By: Alex Steininger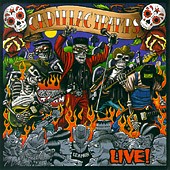 Voodoo punk rock 'n' roll, Cadillac Tramps seem to be as much about the music as they are about the live show and the feelings both present to the listener. Bringing them together, as hordes have tried and succeeded, the Tramps pull it off with flying colors. Not only is this album (which features live versions of songs off their three out-of-print full-lengths) energetic and sweaty, the songs are also there.

"Hoodoo Guru" injects you with an instant twitch as you react to the tight, punchy punk and the wild, everything goes rock attitude the music emits. "Should I" will have you bouncing off walls. The crisp melodies and shock treatment hooks sting while the pounding rhythm section rips right into your skull and just doesn't let go. Hear as the band fuses a fiery rhythm section with driving guitars and splitting beats that make you want to move on tracks like "Bridges" and "Barbed Wire." Then there are songs like "Cadillac Hearse." Just as much about making you want to dance as it is about injecting unforgettable, rebellious blood in your system, the song is an instant high.

With a six-year hiatus under their belts, Cadillac avoids old age or rusty-ness on this live show. Giving it their all and then some, if you don't feel the stream of pure adrenaline running through this disc, you're most likely never going to feel it from anything. I'll give it a B+.