Liberator
Worldwide Delivery (Epitaph)
By: Alex Steininger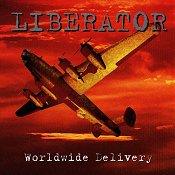 Sweden's Liberator prove they're in it for the long haul and the music, not the hype or commercial appeal. That's right Liberator is a ska band, and despite ska being "dead" as far as mainstream America seems to be concerned, Liberator keep going strong on their latest, Worldwide Delivery . Two-tone ska with plenty of energy and dance, the disc will quickly appeal to your body and make you want to move.

"Mr. Wright" has the chugging horns, burning upbeat, plenty of rhythm, and quirky vocals that will instantly smack you up along side the head and make you want to dance. "Christina" slows the pace down a bit, but things only get steamy, not dull. They still make you dance with their infectious two-tone ska beats, and they still make sure you're having fun, especially when they pick things up and send the song into some vigorous dance beats.

"Dance If You Want To" should be renamed "Try Not To Dance, We Dare You." Reaching deep into their Jamaica influences, the band delivers a deeper, fatter rhythm and slower grooves with their traditionally inspired, but still two-tone beating beats.

The best thing about this album is the fact that it's fun. It doesn't make you dance and then try to force upon you any beliefs or depressed feelings. Rather, it is fun in every aspect. The vocals are quirky enough to make you smile just by hearing them, the rhythm section bounces around with plenty of grooves, and the band always sends you enough beats to keep you dancing. Try not to dance, I dare you. I'll give it a B.