Deathwatch Beetle Repairman
Hollow Fishes (Self-Released)
By: Sonya Brown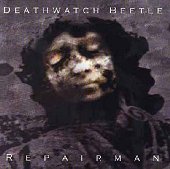 As I listen to Hollow Fishes, I am being taken into several different directions. At one moment, I'm peaceful and "Drying in the Sun" in fields of "Violet & Green"; and then I open the magical music box and I am whisked off to a nightmare carnival with lots of scary clowns ("The Carny of Mr. Dark"). Somewhere in the middle of all of this is an elegant shadowy ballroom filled with mysterious powdered faces ("Season of the Dead").... and then there are those crows... ("King of the Rooks")....

There seems to be a running "dream theme" on Hollow Fishes, so in order to get inside this dream, I decided to ask the dreamer - Matthew Riley - about his creation. It turns out that the very name of this CD, "Hollow Fishes" comes from a dream. Matthew explains, "Hollow Fishes comes from a serial dream that I've been having for at least a decade. Its like a series. The dreams are very VERY creepy. The city where it all takes place is surrounded by lakes which are all connected. The water is crystal clear and completely void of life....except for the hollow fishes. They look like carp and they always show up if you go near the water. They act as agents of this....thing...that lives deep under the city. When they touch you you become corrupted by it. You become the eyes and ears of this thing. I could go on and on explaining this place. I'm actually writing a book about it".

Matthew Riley IS Deathwatch Beetle Repairman, and he does everything on this CD. There is one other musician on Drying in the Sun (track 2), who Matthew says is "this amazing guitar player named Don Siltanen". I felt this track had a "Beatles" influence, so I asked Matthew more about this track. Matthew says, "I was raised on the Beatles. I would have to say that they are a HUGE influence to me"; he continues, "Drying in the Sun sort of reminds me of 'Girl' from the Rubber Soul album."

I asked Matthew to explain a few of his other influences, to which he replies, "From as far back as I can remember I always loved movie scores. That is one of my biggest influences. To name a few...Zbigniew Preisner(La Double Vie de Veronique, Bleu..) Wendy/Walter Carlos (The Shining, A Clockwork Orange) Ryuichi Sakamoto (The Last Emperor, Little Buddah) Ennio Morricone (The Good, The Bad and the Ugly...Lolita) and many more. At the time I wrote Hollow Fishes my influences included The Beatles, The Cure, Skinny Puppy, Nine Inch Nails, This Mortal Coil, Depeche Mode, Fad Gadget, Dead can Dance and the like. Now my influences include Tom Waits (my idol...saw him in concert...WOW) Bob Wiseman, Portishead, and a few of the ones mentioned earlier."

Matthew also has a rather interesting approach to his music. He explains that he took many years off from writing to study the Sitar. He also sites Indian and Pakastinian music as major influences on his style.

The track "King of the Rooks" is one of my favorite tracks on Hollow Fishes. I asked Matthew about this track. He replies, "King of the Rooks has to do with a tree I used to sit under when I was a kid. It was a huge dead elm filled with crows (also known as Rooks). That is all you'll get out of me about that song."

The final track on Hollow Fishes is an instrumental piece called "The Carny of Mr. Dark". This is another favorite track of mine. Matthew tells me that Mr.Dark is the Villain in 'Something Wicked This Way Comes'. He adds, "When I wrote that piece it was all I could think about. I guess it's sort of a tribute to Ray Bradbury's book and to him. He's a brilliant poet of a writer and he's influenced me a great deal." Apparently so, as the band name that Matthew has chosen (Deathwatch Beetle Repairman) is also taken from this book. Matthew explains, "I got the name Deathwatch Beetle Repairman from the Ray Bradbury book"; " The villain, Mr.Dark, offers a business card to the two main characters which says something different every time he flips it over. The final thing it says is, "Our Speciality: to examine, polish, oil, and repair Deathwatch Beetles". For some reason I wrote Deathwatch Beetle Repairman down on a piece of paper. I knew right away that I had found my recording name. That book, and that part of it, have a deep significance for me."

In addition to being an accomplished musician, Matthew also designs postcards and greeting cards "geared towards a more melancholy crowd", many of which can be seen at his website located at http://www.deathwatchbeetle.com. He uses the same beautiful darkness in his art as he does in his music - He has even incorporated images of a photo of the tree that he mentioned in "King of The Rooks" into his recent artwork.

Hollow Fishes is so much like a long twisting dream. Frightening at one moment; and ready to carry you off on fluffy clouds the next. I highly recommend this cd.