VARIOUS ARTISTS
Another Prick In The Wall: A Tribute To Ministry (Invisible Records)
By: Alex Steininger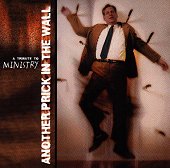 The loud, crunchy guitar noise of "Land of Rape and Honey," written by Ministry and covered by the Electric Hellfire Club, helps ring in Another Prick In The Wall, volume two in Invisible Record's tribute to Ministry.

The thunder of the drums crash down as the sampling takes center stage; all the while the bass vibrates and the guitars growl, supplying the gasoline for Electric Hellfire Club to drop a match on and watch the place burn.

Shining's rendition of "Jesus Built My Hot Rod" is caked in sonic vibrations, while underneath the wall of noise lives a wild dance beat. En Esch's (KMFDM) "Work For Love" thumps with heavy bass and lightning quick drumbeats. And Meg Lee Chin's "Just One Fix" delivers thick, heavy, abrasive sound that beats down like heavy metal but rips like industrial.

Continuing through the album, Resident Phase Shifter's cover of "Thieves" provides a spacey, relaxed atmosphere for you to curl up and relax in. Then The Aliens' take on "She's Got a Cause" sends you reeling with more blazing guitars, shattering drumbeats, and thunderbolt bass lines.

Ending it is Heavy Water Factory with "Just One Fix." Lighter than Meg Lee Chin's rendition, the sensuous electronica hides behind a bed of layered, hypnotic guitars and bouncing-off-wall drum grooves.

Known for their hard, pounding industrial rock, Ministry led the way for many of today's top underground acts. Paying homage for paving the road they would eventually travel and try to re-invent, Invisible Records and their artists have put together a beautifully balanced collection of dark, twisted, mutilated, and powerful covers that help show just how much Ministry meant to them all. I'll give it an A-.