Disturbed
Coming Down With The Sickness (Giant Records)
By: Alex Steininger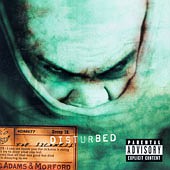 In a world of trends, once something explodes, such as Korn or Limp Bizkit, everyone wants on the bandwagon. And, to support the trend until the bottom falls out, indie and major labels alike go on a signing spree to find the next act that is going to score them a top forty hit and platinum record sales. Since we're in the midst of a rap-metal fad, enter Giant Records and the new project they are pushing, Disturbed.

Though Disturbed travels the oh-so-stale and glut-filled rap-metal market that has been beaten to death ten times over, they manage to infuse their music with a bit of life, helping to separate them for the hordes of sound alikes. Adding an electronica element to their music, the band sways between Orgy and Korn to Limp Bizkit and System of a Down, kicking out heavy metal grooves, hard-knuckled rap, and flashes of electronica.

They're not breaking any ground by any stretch of the imagination; matter of fact, they're regurgitating and smashing together the same metal and rap the rest of them are. But, with a slight electronica tweak here and there, they manage to stand out a bit, which is all that is needed in a world of corporate dollars and manufactured acts.

Nothing new here, nothing innovative, and nothing interesting, to say the least. Bland metal and tired rap is plentiful, but style, intrigue, and character - not to mention a fresh face and impulses of their own - is entirely lacking. I'll give it a F.