VARIOUS ARTISTS
Culture Shock Punk Rock (Tomato Head Records)
By: Alex Steininger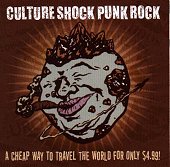 Pop-punk, ska-punk, and everything in between, Culture Shock Punk Rock travels the globe, from California to Japan, bringing you a flavor of the international pop-punk culture. Notables such as Alkaline Trio, MU330, The Planet Smashers, and Digger combine with newcomers like The Ray-Guns, The Wunder Years, and Nicotine, giving the record a fresh taste.

Digger kicks things off with a super poppy, charged punk ditty by the name of "Pieces," Alkaline Trio pushes forward with more bouncy pop-punk on "Good Bye Forever," and "Slightly Stoopid," by Luckie Strike gives you some aggressive, female-fronted pop-punk speed to chew on.

The quirky rockers in MU330 get you dancing and shaking with the hip-shaking grooves of "Vow Vow," before The Ray-Guns make you sweat with their hyper-charged, horn-heavy, scolding upbeat-drenched ska-punk.

Then there is Big D and the Kids Table and their contribution, "Myself," another sweat fest of horns, screeching guitars, and a bit of a ska tingle. The Planet Smashers end it with "Life of the Party," a bright, danceable third wave ska ditty that crunches.

Cheap and filled with music, this $4.99 compilation offers up plenty of party music for you and your friends to enjoy for quite some time. The bands are aggressive and fast enough to make you sweat and melodic enough to make you want to sing along and boogie with them. I'll give it a C+.