Bloodhound Gang
Hooray for Boobies (Geffen Records)
By: Alex Steininger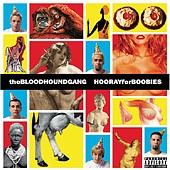 "I Hope You Die" opens up Bloodhound Gang's latest collection of potty mouthed, high school perversion, Hooray for Boobies. The pop-punk ditty packs quite a punch with 'fuck you' lyrics that manage to help you release steam and make you laugh:

"I hope ya flip some guy the bird/ He cuts you off and you're forced to swerve/ In front of the Beatles' tour bus/ A Bookmobile and a Mack truck/ Hauling Hazardous biological waste/ The light turns red you have no brakes/ And 'Hard Copy' gets it all on tape/ So you can see the look on your face."

"The Inevitable Return of the Great White Dope" offers up another style the band plays around with: hip-hop. With their comical high school antics and hilariously crude lyrics at the helm, and a DJ spinning the tables, BHG makes you dance while they fill your head with obnoxious, foul-mouthed humor.

"Three Point One Four" is a hip-hop/pop-punk rocker; "Yummy Down On This" is industrial-metal; and "The Ballad of Chasey Lain" offers up infectious pop-punk.

The latter is an ode to porn star Chasey Lain, who contributes backing vocals and a few words for this album, including a spoken word piece at the end of this song stating she would rather "eat rancid tuna salad out of her ass...".

With lines like "You've had a lot of dick/ I've had a lot of time/ You've had a lot of dick, Chasey/ But you ain't had mine," Bloodhound Gang never fail to make you laugh hysterically while their sugary pop-punk reeks havoc in your brain and sets up a permanent residence to ensure the song doesn't leave your head any time soon.

"Magna Cum Nada" delivers more hip-hop/metal, while the band's radio friendly, debut single off this album, "The Bad Touch," delivers a new wave-via-the-80's dance number sure to make you sweat and shake while your head is filled up with naughty little thoughts.

Blink-182 is soft-core porn compared to the all-out, in your face, Spice Channel rock of Bloodhound Gang. Porn freaks will feel as if they've finally met their match; high school boys and girls will listen and get wet; and kids will laugh at lines like "Let's do it doggy-style so we can both watch X-Files" without even knowing what the hell they're laughing at. Isn't life swell... I'll give it a B+.