Captain Tractor
Celebrity Traffic Jam (Square Dog Records)
By: Kimberly Berhorst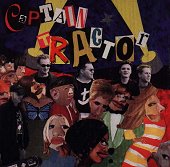 Hailing from Edmonton, Canada, the boys of Captain Tractor know how to rock. I had the fortune to see them for the first time April 31 in Portland, OR, in a much-anticipated visit since the 1999 release of their latest album Celebrity Traffic Jam. Portland likes Captain Tractor, a band that pulls into town with a high-energy load of barn-stomping rock, power pop and punk songs. The Cobalt Lounge was packed with dancing and merriment that night, and sometimes I wondered if I wasn't watching the soundtrack for an Irish-inspired road-trip flick.

Celebrity Traffic Jam succeeds in capturing this band's live energy, transcending musical borders without lagging. Captain Tractor's five members are dazzling musicians all (this is one of the few bands I've seen that makes good with an accordion and flute player), with Jules Mounteer on drums; Jonathan Nordstrom, bass; Scott Peters, guitars, mandolin, bouzouki and vocals; Brock Skywalker, accordion, keyboards, harmonica, harp, penny whistle, flute and vocals; Chris Wynters, guitars and lead vocals. I can't help but compare Wynters rich voice with that of Crash Test Dummies lead singer, with the best of intentions. Fans of the latter should love Captain Tractor.

The songs on Traffic Jam are cheering at least, evoking images of grass fields and barn raisings with songs like "Bridges" and "Too Far to Fall." Vineyard grape stomps come to mind with "The Summer of Our Discontent," while Irish influences come out in "Another Drinking Song" and Guinevere. The "hit song" could arguably be the love song "Empty Page," whose memorable chorus speaks wistful dedication: "Everything you rush/Everything you heed/goes in and out with everything I breathe/And all the ones you touch/And all that you perceive/Goes up and down with all that I believe/It's everything I wish my heart could perceive."

Since their debut album Land, Captain Tractor has toured worldwide, produced four more albums (incl. Traffic Jam) and garnered acclaim from the likes of Billboard magazine and award for "Group Recording Artist of the Year" from the Alberta Recording Industry in both 1996 and '97. The band also won Alberta awards in '97 for "Best Alternative/New Music Artist on Record" for their third CD Bought the Farm, and "Single of the Year" for Up the Hill.

Definitely check this band out if they come your way, and definitely check out Celebrity Traffic Jam to find out why they've become one of Canada's favorite alternative bands in their five years together. The album is a party in itself, treating life's roller coaster ride with musical good humor and seamless dynamo.

Bonus: Liner note lyrics come with a dedication for each song. Grade: A-.