Davis Waits
The Evolution Of... (Underhill Recordings)
By: Alex Steininger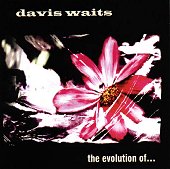 Davis Waits' music embodies rock music in all its forms: the band fuses pop, roots rock, country western, and hard rock, as well as some psychedelic grooves, into their melting pot sound. The Evolution Of... is the album of a band both trying to find its sound and a band comfortable enough in their sound to journey through all their influences.

The jange-ly, hard rock and quirky pop of "Senorita" starts the album off, but "My Dear Kate," with its subtle, laid-back dusty road pop, gets the album rolling. The rollicking, thunder guitars of "Bastard" put the heat in the album, "Fall Like I Fall" adds tenderness and warmth, and "Salvation #10" adds some roots rock sunshine.

"Think Twice" finds the band delving into some garage rock noise, while "Murder in the Brickyard" is a soft, soothing pop-country piece. "Seven Years" is all grit. And album closer "Cut to Pieces" is a quirky modern rocker.

The album has a familiar face while wearing several hats. The diversity proves the band has many influences and wells to draw from, but it also hurts the band as they stretch themselves too thin. Better at the roots rock and Americana than they are the hard rock, The Evolution Of... is a diamond in the rough at times while other times a weak attempt at diversification. I'll give it a C.