Jen Wood
This Uncontainable Light (Tree Records)
By: Alex Steininger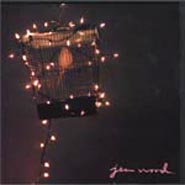 Jen Wood's latest, This Uncontainable Light is a sweet, passionate trip down a road filled with romantic melodies, hushed fears, and bright-eyed hope. The songs are charming and potently powerful, yet fragile enough to let you in with open arms, in need of your comfort.

The delicate percussion of "Ride" floats through the song while the rain drop guitar is soothing, molding the song into a light kiss on the cheek as it waves good bye. Wood's voice is harmonious and calm, yet still a bit unsure.

"Lie 4 A Lie" trickles down on you like a light morning shower. The vocals come out of the clouds with the bright glow of the sun, warming you up and coercing a big smile to jump up on your face. And the light percussion gently flows along as if the day is all happiness and joy.

Then there is "Let's Bight." As Wood recalls a relationship gone sour, she tries to justify it before realizing that she needs to move forward. With self-confidence and self-assurance, she moves on while gaining comfort with past happenings.

The perspicacious "See-Through" ends the album; Wood's enchanting voice and beautiful knack for writing delicate pop comes full-circle, as her guitar speaks just as much as her voice, and the rhythm section drips down on you to fully realize the song's potential.

Wood finds a peaceful medium between the future and the past on This Uncontainable Light. As she searches for the light, she wanders through fragile emotions and tender pop bliss, before reaching it and realizing that her music is the light at the end of her tunnel. I'll give it an A-.