Neve
Neve (Columbia Records)
By: Alex Steininger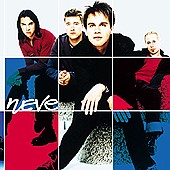 Crunchy, pop-oriented modern rock, Neve self-titled debut album is filled with striking guitars, hard-hitting rhythms, and a glossy, slick produced pop sound that shines throughout the thirteen tracks.

To stand out in the modern rock world is quite hard. What, with every band sounding the same and all. And though Neve doesn't break any new ground or stand out all that much, their sound is one of the better sounds to come out of the watered down modern rock world as-of-late.

"Digital On" is a crunchy, no-holds-barred whiplash rocker; it hits you in the back of the head with churning guitars, striking bass, and shattering drums. The vocals are nothing spectacular, as they're the ordinary, spice-free plain clothes vocals found throughout the air waves.

But "It's Over Now," the album's first single, finds the band delving into sweet pop propelled by a strong, rocking backbone. "Same Old Story" dives head first into strong, muscular, overly produced modern rock, and "Trip and Glide" is a power ballad ran through a power rock filter and beefed up with plenty of guitars and noise.

Nothing earth shattering or anything out of the ordinary. But, Neve does manage to sound better than a lot of the rest of them out there. Though the music seems soulless and substance free, it has its moments, and hooks you quite often on sugary frills; I'll give it a C+.