Hank Plank & the 2x4s
Venus Hair Trap (Pissgrowler Records)
By: Alex Steininger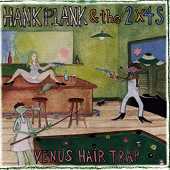 Drunken, wild, hootenanny bluegrass, Hank Plank & the 2x4s make you want to dance, drink, and party on through the wee hours of the morning on their debut full-length, Venus Hair Trap.

"I'm the Only Thing My Baby Left Behind" tackles lost love with some tongue-in-cheek humor and lots of booze-stained bluegrass, while "I Never" cruises on down the open highway with the windows down, the radio blasting, and solid bluegrass-rock shaking the car's frame. "Float Away" finds the band settling down a bit to the tune of a simmering, modest jamboree piece. And "Kentucky" opens up like the night sky; sparkling and warm, glowing down on you like the moon, and plenty lively and entertaining.

If you're looking for some good party music that has a thundering rhythm section, drunken vocals that make you want to drink, and a good ol' time feel to it, than this is your stuff. They hit party right on the head, while also serving up a bit of substance, too. I'll give it a C+.