Hefner
Boxing Hefner (Too Pure)
By: Alex Steininger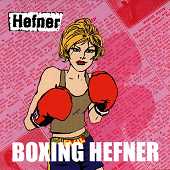 They like to consider themselves a folk band. But, Hefner is indie rock that just doesn't want to sound like every other indie rock band. Instead, their tongue-in-cheek antics and quirky presentation of the songs make them a swaggering rock act capable of blissful pop songs as fun as a day off at the beach, relaxing and basking in the warmth of the sun.

A compilation of 12 rare and unreleased Hefner songs, Boxing Hefner manages to sound cohesive and lively, unlike the majority of b-sides albums that sound like an album filled with songs that should never be released.

The country tingle of "Twisting Mary's Arm" alongside the emo of "Blind Girl With Halo," and the toe-tapping folk of "Christian Girls," not to mention the off-the-wall pop-folk of "To Hide A Little Thought"... it all makes you feel warm inside and happy to be alive. Ah... behold the power of cheese, er, music. I'll give it a C+.