Damien Jurado
Ghost of David (Sub Pop)
By: Alex Steininger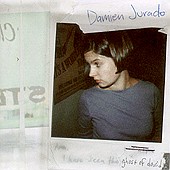 At first glance, Damien Jurado's stripped-down heart-on-the-sleeve folk-pop is your typical singer-songwriter shtick. But, upon closer inspection, his worn and lived lyrics tell the tale of characters that he's lived, loved, and known. Putting these feelings and experiences into music is a hard thing to do, but Jurado manages to do so with ease, painfully recalling what he's seen or heard while trying to move along or take control of his emotions.

Ghost of David is an intimate, deeply personal look inside of Jurado. He seems comfortable enough to open up and share his soul with us, so the least we could do is open up and accept him with open arms. With music this good, it won't be that hard, either. I'll give it an A-.