Damien Rice
O (Vector Recordings)
By: Alex Steininger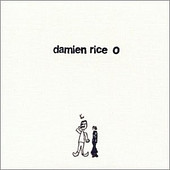 The Irish-based singer-songwriter's sophomore full-length, O, is packaged in a CD-sized hardcover book filled with personal artwork, lyrics, and photos. Not only is the CD packaging one of the best presentations in recent memory, but, probably in the history of the CD. But, does the music live up to the amazing packaging? In short, yes.

Revolving primarily around his voice and acoustic guitar, Rice delivers a shattering performance, track after track, crafting heartfelt lyrics with no walls or barriers to complicate the message. Stripped of any inhibitions or restrictions, Rice's uncomplicated, sometimes fleshed out, sometimes basic presentation of his songs send shivers up your spine and touch you so deeply, you can't help but acknowledge the power and grace of every track on the album.

Moving in his subtle way, Rice crawls from one track to the other. He keeps things sparse for maximum exposure, but drawing enough attention to the songs, and ensuring they're complete with anything they need, so as not to lose the listener in his pursuit to deliver the purest form of his songwriting.

Honest, real, and full of life, Rice says more with his, and makes more noise by turning the volume down, O a strong contender for one of the best records of the year - top ten for sure. I'll give it an A.