Damon & Naomi
With Ghost (Sub Pop)
By: Alex Steininger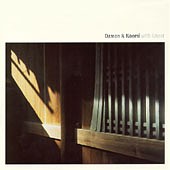 Sweet lullaby pop music that sends you into an endless journey through slumber-land, Damon & Naomi's pop sensibilities matched by few. Light drops of percussion swim through the songs, while the guitar gently flows through the air like a cool morning breeze. And the vocals, beautifully harmonized male-female vocals propel the songs to an all-new level, helping them reach the dream-pop apex time and time again.

If you like your pop drenched with sweet melodies and a casual breeze throughout; or if you like your pop dreamy and very atmospheric, Damon & Naomi will not fail to amaze you. Tight, crafty, and as gentle as they come, the passive dream-pop they create will mesmerize you. I'll give it an A.