Jandek
I Woke Up (Corwood Industries)
By: Gary "Pig" Gold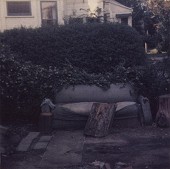 On this, his 26th release over the past two decades, Houston's best-kept musical secret pulls out his trusty harmonica and confronts, tackles, and ultimately leaves for dead the entire damnable singer/songwriter idiom.

Of course, Jandek has faced and defeated far tougher opponents throughout his career, but what he can do with just his harp, guitar, and lone-wolf voice gives all new and sinister meanings to both the words "rock" and "roll." Case in point: "Alone On That Mountain," the second song on this characteristically disturbing disc, begins a seven-song suite of horrific music-making which concludes with the suspectfully healthy advice, "Take It Easy." Yeah, right.

The two tunes which follow, "Just Die" and "Pending Doom," quickly let any listener who's lasted this long know that Jandek is one talent not to be trifled with, and that I Woke Up is but the another installment in an on-going body of work absolutely without equal in the Uneasy Listening annals.

Oh, and be sure to buy an extra copy for a former friend while you're at it, alright?