Jandek
New Town (Corwood Industries)
By: Gary "Pig" Gold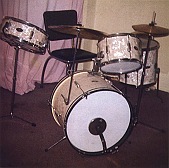 JANDEK "New Town"
DUF DAVIS & THE BOOK CLUB "Shut Up And Detune Your Guitar"
[Jandek: Corwood Industries, PO Box 15375, Houston, TX 77220]
[Duf Davis: The Galactic Recording Co., 51 Grover Avenue, Suite 13-A, Princeton, NJ 08540]

OK, for all of you who got all Grammy-headed a few years back over all the groovy-goolie graveyard hype beneath The Big Bob's "Time Out Of Mind," I duly demand you hereby Get Hep, as it were, to the grand old daddy of all things singer-songwriter(-slightly skewered). I speak, of course, of Houston's very own Jandek, who's been hard at it for over twenty years -- and way more albums! -- creating a wholly unique body of work which stands absolutely without equal within the realms of all that we may consider rock or even roll.

"New Town," one of the man's latest and unquestionably greatest, creates a sonic world so very sparse, tortuous, and alternately terrifying (yet ultimately up-lifting) that even comparisons to Primal Therapy-era Lennon fall far short. Conversely, "Time Will Come," "New Town"'s tenth track, wouldn't sit at all out of place on "McCartney III" -- should ever such a creature someday rear its head. Don't let another couple of decades pass before you discover for yourself the guilty pressures behind all things Jandek. You will NOT be sorry you came over to his side.

Meanwhile, Princeton's awfully legendary Duf Davis has purportedly had a lot of people ask him lately, "Hey Duf, when are you going to put out your weird fucked-up stuff?" The answer is this totally, near-instrumentally marvelous "Shut Up And Detune Your Guitar" disc.

Like some subterranean half-hour "Wild Honey Pie" medley (--which reminds me: Where's that "Duf Davis Sings The Fireman" -- or vice-versa!! -- album??), this collection of self-described "weird dissonant acoustic guitar" music runs the gamut from severely alt-country ("Banjo Tune") with, I duff you not, a dash of bluegrass, Raymond Scott-style ("Off Color Remark") to folk ("California California" is no less than a sequel to John Hartford's good ole "California Earthquake") and even p-o-p, dammit ("Breetworld" is as much Lindsey Buckingham as it is veteran Book Clubber Chris Breetveld).

Only the tres-silly "Slowly I Turned On The Way To Glory" limps dangerously towards uber-pretentious King Crimsonery-- but luckily there's just enough wholly-Jandek-worthy corkers nearby ("Timing Problem" and "The Sophist," most notably) to keep things rooted on some sort of deliciously uneven keel. Maybe THAT'S why all the people at the record store Duf works in have responded to "Shut Up..." as they haven't to not a single one of the man's previous releases. Hmmm. Is there something in the water up Princeton way then? No. I just bet people are getting tired of hearing bunches of guitars that are IN tune. Finally.