Ultimate Fakebook
This Will Be Laughing Week (550 Music/Epic)
By: Alex Steininger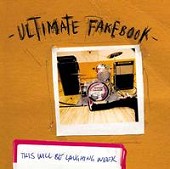 Crunchy, melodic, and fast-paced, Ultimate Fakebook's take on power-pop is both invigorating in the days of cookie-cutter pop and a relief that major labels are actually looking for talent over generic modern rock hybrids.

The band's debut, This Will Be Laughing Week, is filled with engaging rock nuggets. "She Don't Even Know My Name" starts the album off like a rocket. "Of Course We Will" twists and spins with a barrage of blaring guitars, soft melodies, and a rhythm section that has no problem rocking out or toning things down to let the moment last. And then there is "Soaked In Cinnamon" and "Little Apple Girl", two prime examples of why this is one of the hottest bands in 2000, high-octane melodies, hook-laden, and emotional vocals that wear its heart on its sleeve.

Ultimate Fakebook may be one of the few bands out there infiltrating the major label circuit and demonstrating to A&R and label heads that modern rock doesn't have to be bland and uninviting. It can be catchy, poppy, and still kick ass - and most importantly, it can do without the metal and rap tendencies. I'll give it an A.