Ultimate Fakebook
Open Up And Say Awesome (Initial Records)
By: Alex Steininger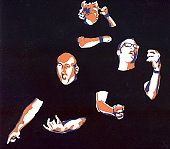 On their major label debut, This Will Be Laughing Week, Ultimate Fakebook captured the essence of the teen spirit. They did so by writing memorable songs about loneliness, isolation, and wanting to forget your surroundings by rocking out, whether it means putting on a record and blasting it in your room or hitting the garage with your friends to crank out your own brand of rock.

However, after parting ways with Sony, Ultimate Fakebook find themselves back on an indie, this time on Initial Records, a label known for their hardcore and punk sound.

Whether it was a national progression or a result of their surroundings, Ultimate Fakebook's Open Up And Say Awesome incorporates a lot more punk and hardcore, with the shining pop and sugary melodies hiding underneath loud guitars and a pounding rhythm section. Not that there is anything wrong with this, as Ultimate Fakebook has always been about the live show, and their live show is an absolute assault of rock. It's just hard to adjust to a band that delivered one of the year's best pop records, now to hear them picking things up with a lot more rock. However, it works, and fans of Ultimate Fakebook will flock to this album and fall in love with it over and over again. It's strong, powerful, and fun. I'll give it an A.