Ultimate Fakebook
Open Up and Say Awesome (Initial Records)
By: Alex Steininger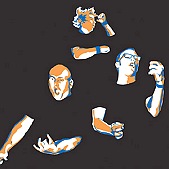 Nowhere as near as good as 2000's Sony-released This Will Be Laughing Week, Ultimate Fakebook's latest, Open Up and Say Awesome absorbs more hardcore, giving the ultra-poppy rock of Fakebook's Sony full-length a much harder edge.

Though, the band's sly humor and self-deprecating nature alongside universal observations about relationships and life all play a role in the band's oft-funny, yet serious songwriting tendencies. And even though the band has decided to load the guitars on and go for more rock rather than more pop, the pop still plays an important role in their band, as Open Up and Say Awesome has its poppy moments, nestled away amongst the rock. One thing, though, is no matter what the record sounds like, the band will always amp it up and rock it out live, making their live shows something you don't want to miss.

Open Up and Say Awesome won't hit you like This Will Be Laughing Week, but it's still a good record, and after a few listens it will slowly grow on you and become something you'll put in from time to time and enjoy with a smile. Just don't miss their live show. I'll give this a B+.