Dolly Varden
The Dumbest Magnets (Evil Teen)
By: Alex Steininger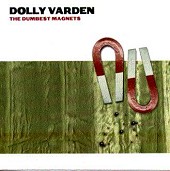 Female and male-fronted pop quintet Dolly Varden churn sweet melodies and light drum beats into soaring pop tunes that will remind you of summer, even with the rain and darkness of fall upon you. Catchy, but no overly, Dolly Varden manages to reel you in and make you think, rather than give you a few minutes of ear candy before leaving you and making you ask yourself, "What else could I be doing?" All twelve songs on this album are of quality. Acoustic and electric guitars swim together to create a delicate, yet edgy sound, while the male and female vocals add two dimensions to the songs. The male adds a more roots-rock touch, while the female vocals sail away with dreamy, warm pop.

Dolly Varden manages to create radio friendly pop music that is leaps and bounds above the pop music you'll find on the radio, for the most part. Not catchy enough to break into the top 40, the songs are still strong enough to earn heavy rotation in your CD player. I'll give it an A-.