Dolly Parton
Halos & Horns (Sugar Hill Records)
By: Alex Steininger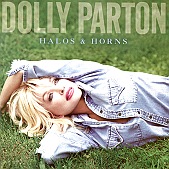 Dolly Parton's Halos & Horns is a warm, good natured country record with strong songwriting. The work of a talented voice hitting her stride and creating one of the best albums of her career, one that is heavily rooted in real Americana and old-time country music, but isn't afraid to go along with the times, sounding equally modern and fresh.

Parton's body of work is unquestionably strong, and with a prolific history as big as her own, sometimes, as a songwriter, you get caught up in the past, relying on previous accomplishments to carry your most recent release.

Parton avoids this, allowing the songs to carry themselves, with each one a strong collection of fine instrumentation, beautiful lyrics, and Parton's country gal soul running through every song, owing as much to bluegrass as it does to its country sound.

Well worn, the songs have traveled the roads they talk about. They're full of life (as is Parton), and sound refreshing, especially considering so many country imitators these days using the money of Nashville to produce slick, soul-less, heartless dribble. Parton's Halos & Horns is one of the finest country releases this year. I'll give it an A.