Caleb Klauder
Sings Out (Padre/Siren)
By: Alex Steininger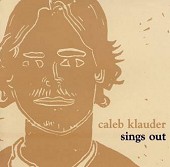 Sings Out is a warm, friendly Americana folk album rooted in the soul of country. Caleb Klauder's voice is worn, yet polished, pulling everything off with a slight strain, on key, but tired sounding. Roaming through the dusty trails and lonesome nights with only moonlight to guide him, the dark mornings awaiting the sun to rise come alive with a fresh breeze of creativeness and solid songwriting.

Here is an album that touches you with pop sensibilities, giving it the cross over potential most folk and Americana records don't have, while staying true to the fan base that will most likely salivate over this polished, strong collection of songs. I'll give it a B+.