Sunday Flood
Advisory (Sun Sea Sky)
By: Alex Steininger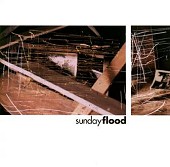 Loud, crunchy emo-punk, Sunday Flood is flooded with the same sound that all other emo-punk bands and emo-pop bands out there have. Vocals that try to wear their hearts on their sleeves, sounding emotionally torn and beat up, while the band plays sharp, edgy beats that have odd time signatures or just plain dive right in, rip it up, and then go soft.

Though this band is able to pack in the energy and intensity (meaning I'm sure they have a great live show), the album just doesn't pack the wallop that a live show would. So, you're left wondering what the band is capable, while hearing them wail and moan with jagged beats screaming in the background. I'll give it a C-.