Sun
Inquire Within (Spin Girl)
By: Gary "Pig" Gold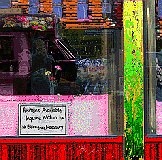 Tinkly, sunshine-y, nothing-but-Fun-timey Pop -- with a capital "P" at least! Yep, there's lots of luscious background voices always going "ahhh" and "ba-ba," some whistling even, and damn -- I mean darn it -- You can even hear the (nice, clean) guitars trebly-high within the mix!

True, like such great soundsmiths as Lindsey Buckingham, it really needn't be the SONGS that are the stars here, as the instrumentation and especially arrangements provide never ever less than a bright, flawless sonic sheen throughout. Then it's all topped with lazy, happily-heartbreaking, work-a-day lyrics entirely worthy of a certain B. Wilson at his very best, sung in what sometimes veers close to actual Colin Blunstone breathiness.

Why, the proceedings even close on a wonderfully apt touch-o-Buddy Holly: Oh Boy, as The Master Himself would say! Raspberry-fresh cotton candy for the ears -- and I mean that in the utmost complimentary way, I say.