Tom Jones - Live at Caesars Palace
Engelbert Humperdinck - Live at the Riviera, Las Vegas
By: Gary "Pig" Gold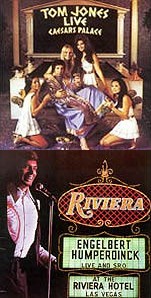 Caution: Even the most self-respecting of record stores now house a section way in the back, between the Soundtrack and Male Vocalist departments, called "Lounge." This vaguest of musical pigeonholes can actually apply to anyone from Herb Alpert to Pia Zadora, and like similarly ludicrous - and much-overused - labels like "new wave" and "alternative" really only serves as a convenient stylistic bin in which to dump artists and styles who can't easily fit elsewhere on your local CD seller's racks. Said "lounge revival" [sic!!] was responsible, I suppose, for forcing back into print long-lost, uh, classics by Joe Meek's Blue Men and even Jackie Gleason's Velvet Brass, but for every cool Desi Arnaz re-issue there also came multi-disc German box-sets by the likes of Doris Day, for example.

Contrasting cases in point: Tom Jones' 1971 classic Live at Caesars Palace is a smokin,' sweat-soaked set which kicks off with a dynamite "Dance Of Love" (the Charlie Rich song you Beatleheads might recognize as "Birthday" off that White Album) and never ceases to rock long, hot and hard all the way thru "Delilah," "She's A Lady" and an r 'n' r medley even Elvis in his Vegas prime would be hard-pressed to match. Why, even Tom's "Bridge Over Troubled Water" and (whoops!) "My Way" can still inspire a soiled panty toss or two.

That said, the neophyte loungehound must not be fooled by such blatant pretenders to the velvet throne as Engelbert Humperdinck and his typically limp-dincked Live at the Riviera: "Help Me Make It Through The Night" has never sounded so insincere, "You'll Never Walk Alone" was better served by Gerry and his Pacemakers, I kid you not, and Stephen Stills should have sued Engelbert's "Love The One You're With" off the planet, not to mention off this ill-advised CD re-issue.

I remember years back when a close pal found a Cars record in a Punk Rock bin and bought it instead of Never Mind The Bollocks. Don't YOU make the same mistake: always stick with the real thing (like Tom) as opposed to such cleverly-camouflaged landmines as the Humperdinck's.