John Hiatt
The Tiki Bar Is Open (Vanguard Records)
By: Alex Steininger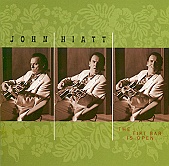 The Tiki Bar Is Open is a masterful creation of roots, down-home rock, melodic, hook-laden pop, and rough and tumble vocals from a man that has experienced quite a lot in his life and is here to sing about it. With well-written, storytelling lyrics and a not-so-beautiful edge surrounding the beautiful pop, John Hiatt creates one of the year's best alt-country/folk-rock records.

With ample amounts of pop, a driving rhythm section, and some tender moments and near ballads for you to enjoy, Hiatt keeps the flow of songs refreshing and entertaining as well as rewarding. Listening to this album will have you smiling, singing along, and in tears. It is gripping, emotional, and heartfelt, while still pushing along with a fun, free-for-all carelessness to it. I'll give it an A.