John Lee Hooker
Live at Newport (Vanguard Records)
By: Alex Steininger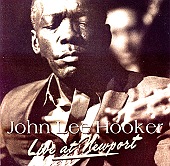 John Lee Hooker helped define R&B and blues, all the while influencing the likes of Chuck Berry, Johnny Johnson, The Rolling Stones, and The Beatles. Along with other legends like Muddy Waters, blues music was the first seed that a new sound, rock 'n' roll, grew out of.

Recorded live at The Newport Folk Festival in 1960 and 1963, John Lee Hooker's Live at Newport is a stellar collection of hot, stomping blues that will set you ablaze. It allows you to hear one of the greatest performers ever in his prime, treating the bewildered crowd to astonishing music that would soon become the backbone of the entire musical world.

So much has been said about John Lee Hooker, that it is hard to go through life and not realize the importance he played on everything you hear, whether it was directly or indirectly. Heck, the Backstreet Boys have been quoted as saying that they were influenced by The Beatles, as scary as that sounds. And if it wasn't for John Lee Hooker, The Beatles may have never been formed.

Live At Newport is a record that will make you salivate. The rhythms are divine, so soulful and rich that it is hard to not get up and move your body in unison. John Lee Hooker's vocals are deep and rough, singing the blues as they've never been sung before. And his guitar playing is top notch, whether he's finger-picking and soothing your soul or playing like a mad man making love to his guitar, as you get up and make love to the music.

The man is a genius, and Live at Newport proves it. A phenomenal album that is a must have for anyone. I'll give it an A++ (too unforgettable for words).