Guided By Voices
The Who Went Home and Cried (Rockathon Records/MVD)
By: Randy Harward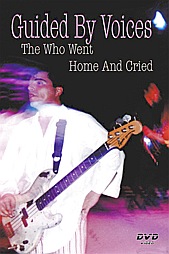 There are two parts to this DVD, which is a document of GBV bassist Greg Demos' final performance with the band: a one-hour front porch rehearsal and select songs from the show amounting to another hour. The porch section's audio leaves much to be desired, however the content is entertaining and enlightening: we get a glimpse of the "regular guys" side of GBV, with their mulleted, Buford T. Pusser-sunglasses-wearing friends and neighbors popping in to enjoy the sounds. The show, as with all GBV shows, is absolutely kickass. After the show, we're treated to shots of the band stumbling around drunk, which adds to the "regular guy" feel. You even feel like a part of the festivities.

A must for fans, especially for use as a tool to convert the uninitiated.