The Greatest American Hero
Season Two (Anchor Bay Entertainment)
By: Alex Steininger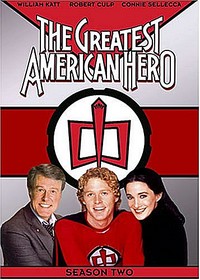 The premise had all the makings of a hit. I mean, come on, teacher Ralph Hinkley (William Katt) receives a superhero suit from aliens and becomes a crime fighter. Befriending FBI agent Bill Maxwell (Robert Culp), and with the help of his lawyer girlfriend Pam Davidson (Connie Sellecca), Hinkley becomes The Greatest American Hero.

The humor in that statement is this: Hinkley lost the manual to the superhero suit so he doesn't know how to work it. The show is then based on the fact that he can't control the suit. Flying into walls, and running into plenty of comedy of errors, Hinkley and his team try to fight crime as best they can.

In the show's only full season, Season Two gives you the best shot at getting into the show. However, it just isn't that funny. And thus it was cancelled.

I don't even remember the show! I had to have a friend remind me of it. And after watching, I knew why I didn't remember it. It's not that good. I'll give it a D.