The Hangmen
We've Got Blood On The Toes Of Our Boots (Acetate Records)
By: Alex Steininger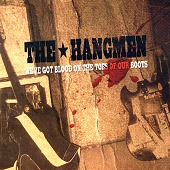 Whiskey-soaked cowboy rock 'n' roll, The Hangmen swagger and sway through bloody rock 'n' roll with a strong country bent, not unlike a more bar rock version of The Supersuckers. The 'Suckers Eddie Spaghetti even adds vocals to "Coal Mine", a fast, ferocious head-on collision of seething guitars and a dynamite rhythm section.

"I Luv U" is a drunken ballad, slow and tender, smelling of alcohol on the breath, as the band plays a loose country number that will make you sweat.

Then there are songs like "My Way" and "Rotten Sunday", which will make you wet yourself, as you refuse go to the bathroom 'cause you're enjoying the flawed, loose rock 'n' roll the band trades in.

And then there is the honky-tonk of "Kiss From You" or "Over For You", a mid tempo country number. "Lonely" closes out the album with some loud guitars and a lot of raucous.

The Hangmen play sloppy, careless rock 'n' roll you can imagine blasting out of some bar while you sip your beer. By the end of the night not only have you found your new favorite band (you're drunk and you don't know better). But, you've found a bunch of drunks that are just like you, 'cept they get up on stage, make asses of themselves, and create loud fucking country-rock that is damn good. I'll give it a B.