Norfolk & Western
Winter Farewell (Film Guerrero)
By: Alex Steininger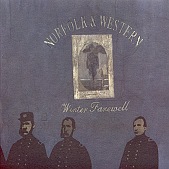 Norfolk & Western have carved out a sizeable following in the Northwest, with fans taken away by their combination of sparkling pop buried underneath soft folk, acoustic guitars and the occasional experimental noise-rock outburst.

Winter Farewell finds the band in fine form, delivering a sonic, well-written album of folk-inspired music that, once explored beyond face value, will remain on your CD player for quite some time.

From the viola introduction of "Sound West", the loud outburst of "Slide", the piano-centric instrumental "They Spoke of History", and "The Evergreen" (which features Richard Buckner on backing vocals), Norfolk and Western are able to create a record that is as folk-y as it is experimental.

Fusing instrumentals with non-instrumentals, Norfolk & Western are all about the mood, getting it right, and putting you in it, as they play soft, eerie, chilling music that unfolds and unravels each time you play the album. I'll give it an A-.