Norine Braun
Now & Zen (Braun and Brains Music)
By: Gail Worley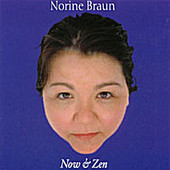 Ok, just get passed the somewhat disquieting disembodied head cover art and listen to this CD. People throw the word 'eclectic' around a lot these days when describing CDs that fall outside the commercial mainstream, but pop vocalist Norine Braun's latest disc earns that label. Now & Zen is a pretty cool mix of styles -- she calls it, "ambient soul pop with elements of hip hop, jazz and punk" -- that maintains a cohesive focus. It's also a lot of fun.

Like jazz-pop vocalist Martha Lipton, Norine Braun has a lovely, flexible voice that sounds natural covering a variety of styles.

"Intimate Hour"'s insistent chant-like refrain -- "Intimate hour become surreal power hour" -- has an appealing hip-hop feel and an undeniable commercial hook. On the bluesy/funk rock "J'en Suis Desolee" -- mixing sung choruses with spoken verses -- her voice sounds a lot like Debbie Harry. Similarly, "I'm The 1" sounds like it could have come off a lost Blondie album from 1980. When Norine shifts gears to the laid-back, southwestern-style acoustic guitar and trumpet accompaniment on "Survival of the Richest," it doesn't sound at all out of place.

Now & Zen most reminds me of the soundtrack to a favorite musical film or play, where you run to the record store immediately after leaving the theater in order to grab the album before the songs can fully leave your consciousness. That's a pretty big compliment. Search a little deeper into the pop music pile and dig out Norine Braun's Now & Zen. You'll thank yourself.