Track Star
Lion Destroyed The Whole World (Better Looking Records)
By: Alex Steininger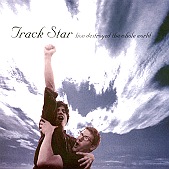 Relaxed, timid lo-fi pop songs, Track Star's Lion Destroyed The Whole World is propelled by uncertainty, like the smart kid in class who didn't want to be the only one to know the answer, so he kept his hand down.

It's an enduring quality, one that makes you keep listening to the album, unsure what to think. But, by the time the album is finished, you're sold.

From the power-pop of "The One We Play", with its falsetto vocals, the bouncy hook of "October/November", the quiet-to-loud "Feet First", through the softness of "Amy, Tell Me Why", Track Star makes insecure pop adorable and hook-laden.

Sweet and innocent, maybe even a bit deceptive, Lion Destroyed The Whole World is a gentle, yet rocking piece of indie rock that reaches out to those who like pop but can't stand indie rock. I'll give it an B+.