Tracker
Blankets (Film Guerrero)
By: Alex Steininger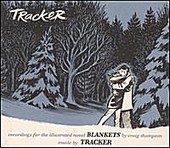 Blankets, the latest from Tracker (the musical outfit of label head and innovative musician John Askew), was motivated and inspired by the graphic novel of the same name by Craig Thompson.

Using the novel as the catalyst, Askew and Tracker (rounded out by Todd Corbett and Derek Trost), as well as a string of guest musicians, including The Decemberists' Chris Funk, Richmond Fontaine's Willy Vlautin, Norfolk & Western's Adam Selzer, and Seattle engineer/producer Tucker Martine, create a sparse, yet full sounding record of ambiance and style. Tracker turns air in to a vital element of the songs and lets the other subtleties of space ensure the blossoming sounds of the instruments. Everything from electric and acoustic guitars, piano, drums, percussion, and bass to a Casio, trumpet, pedal steel, loops, and glockenspiel can fully encompass you without overpowering or overwhelming you.

Primarily instrumental, Blankets comes off like a slow, winter morning. It is a bit cold and isolated, though it is in this isolation that the songs truly come into their own, the windy guitars roaming free, with no sense of structure or stamped style holding them back, leaving plenty of room for the other instruments to compliment and fill out the songs as well.

The instrumental period ends with album closer "Everything Is Beautiful", which sums up the prior ten songs in a melodic, well-written folk-pop ditty. The title of the song repeated over and over again (Richmond Fontaine's Willy Vlautin lending his voice to compliment Askew's), a warm sensation comes over you as you too feel that everything is beautiful.

It is here where the trumpet, pedal steel, and glockenspiel come into play, as the journey leads you to this gorgeous song, a perfect closer to this haunting record that takes time to warm up to, but once the end hits, is summed up nicely, and makes repeated listens something you will be unable to deny. I'll give it an A.