Tracker
Polk (Film Guerrero)
By: Alex Steininger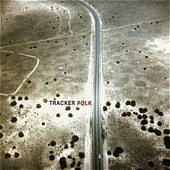 Tracker, the musical alias for John Askew, who trades his time between musician and label president, delivers a strikingly beautiful, stark collection of acoustic and light electric endowment with Polk, the band's latest.

Late night, coffee-shop folk turned into rock with ambiance, Polk can at times be unsettling, remaining majestic the rest of the time. Askew, with the help of friends, creates a vibrant, if not modest album, one that has all the songwriting prowess and indie-rock flavor of some of the hottest bands, with twice the energy and creativeness. Though, it isn't Tracker's style to brag, and the songs, with their low-key presentation, prefer it this way. I'll give this an A.