The Damn Personals
Standing Still In the USA (Big Wheel Recreation)
By: Alex Steininger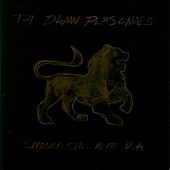 The vocals are still the hardest thing to swallow about The Damn Personals' brand of rough-edged, spastic pop-rock. Once you get past the nasally snarl, though, you're set. Though, it is the vocals that give the songs their edge, helping to define the pop-flavored rock songs with a bite, while the band delivers completely bashed out beats one minute before switching over to melodic, hooky pop-rock the next.

Standing Still In the USA is a solid collection of rock 'n' roll songs that seem to derive their flavor from both pop and garage, not to mention a punk rock and post-punk upbringing. I'll give it a B.