Canada Calling!
By: B.F. "Mole" Mowat



Dear US readers:

I've been doing this column now for three issues & I'd like to know: what Canadians would YOU like profiled/reviewed/interviewed in these pages? The Ugly Ducklings, Shania Twain (in her Ramones t-shirt!) , Manitoba (he's from Ontario actually)?

Send me your thoughts [email protected].

And, without further delay, lookee what the mailman brought us--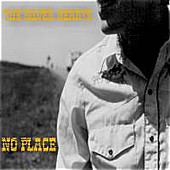 The Silver Hearts No Place is the sophomore effort from this 10-14 piece (size may vary with shipping distance) Peterborough, Ontario ensemble. Canadian readers may already know what a treat live SH shows are: boozy, brassy excursions into the ur-roots of ragtime, blues, and country with flakes of indeterminate matter being spewed in all directions by the theremin & saw players. Just glorious: read www.e-mole.com/3.htm for details. The first EP was essentially a live recording of its set; this baby is another deal altogether. Nearly every review I've laid eyes on up here expresses some degree of disappointment, but I think they're all missing the point. I've heard, for instance, complaints about weak & "weedy" vocals, but could anyone claim any of these chuckleheads (www.thesilverhearts.com) were Carusos to begin with? The thing has a nice swaddled sound interior of itself, maybe a tad on the dry side for a notoriously "wet" band, but still warm. Moreover, half the numbers here are instrumentals, which roll along quite fine, thanks. In fact, I prefer these throat-less pieces to similar offerings from their much-touted touring mates, The Sadies. There's also not one, but TWO Joe Hall covers, and at least one of them (that would be Whiskey Talkin', booze hounds!) is bound for live glory. Maybe if you partake of some of that good Kawartha Lake vegetation, it will all come clearer to you. Cows do it all the time. I'll give it a 3 out of five (and try http://www.cobraside.com/catalog/ under country/folk/blues).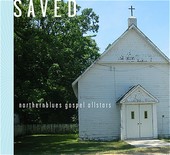 NorthernBlues Gospel Allstars -- Saved! (Northern Blues)
Two things:
1) When I see "white blues" bands, I reach for my revolver, and then I play Can Blue Men Sing The Whites by the beloved Bonzos as LOUD AS HUMANLY POSSIBLE.
2) I like black Gospel music: Shirley Caesar, Five Blind Boys From Alabama , etc. If Gary Topp & Paul Panchezak were doing this review, they'd speak with some kind of authority on this stuff. Me, I know what I like when I hear it and that's about it.
Having said that, this collection sounds OKAY to these ears..I was far too young to remember Jon & Lee & The Checkmates (along with The Mandala, one of the late '60s Toronto "boogaloo" soul bands Burt Cummings disparagingly referred to once) but Jon Finley sounds like an alright sanger to me. Finley did time with the Rev. James Cleveland, so he SHOULD have picked up a few pointers along the way. The unknown to these ears Hiram Joseph, sounds all-reet too. Danny Brooks, doesn't sound quite as swell as those other two guys, but then that's like being thrown into a heavyweight bout when you're still trying out for welter. Give him time, I say. The playin' is fine too: Tim Drummond from Neil Young & Dylan tour bands, is here. Remember Michael Fonfara from Rhinoceros? Just for a laugh, cue up Lou Reed's Take No Prisoners -- my fave comedy record -- and hear Fonfara get name-checked! Overseeing it all: Frazier Mohawk, he of Buffalo Springfield infamy & Marble Index, Holy Modal Rounders, & Essra Mohawk fame. I give it 3 stars, but if you're a fan of this kinda stuff, you might give it more. In which case, bug your U.S. retailer to visit http://www.bigdaddymusic.com for that and other http://www.nothernblues.com releases (like the W.C Handy award winning Otis Taylor).
The Illuminati is the majority interest part of the Toronto garage band Tchort that didn't head in a "true metal" direction. (Whatever that last phrase means--). They have this six-track, presumably self-titled CDR EP out now that the band sells off-stage at shows. It doesn't have a sleeve, but it does have this GREAT quasi-Masonic logo stamped on it. The music is hard rock with wailin' guitar, and a fluid rhythm section that makes everything motor along jes' fine. I have never heard Damien (the successor to the Bubble Puppy) but I imagine they'd sound like this baby. (If they don't, I'll be soooo disappointed) The best tracks here are Lemmy Know, (as in the Sam Gopal's Escalator"Lemmy") Salon Kitty, & Absinthe Makes The Heart Grow Fonder. Three stars & best to go direct with this: http://www.theilluminati.ca/.
If you tune into Underground Parking, my internet radio, you can hear some Illuminati and Silver Hearts music this month (Dec. 2002).
Now, here are some things I wouldn't necessarily listen to but YOU just might:
Dirtmitts Get On (Sonic Unyon) The second release from this Vancouver band, produced by ex-Matthew Good guitarist Dave Genn & podner Tridon. You might have heard the group doing incidental music on American Psycho 2 or heard one of their earlier opuses Destroy on the NBC teen series Just Deal. More grit this time around, but still humm-able. BUY IF YOU LIKE: Juliana Hatfield, Veruca Salt, latter-day Liz Phair.
kitchens & bathrooms' utter a sound (Sonic Unyon) - I can remember seeing these guys play their "complex indie rock" (sounds like M-A-T-H to me) in a 20 seat hole-in-the wall in Hamilton's horrible Hess Village for free back in 1999. The group's latest CD features a five-day production job by Daniel L. Burton (Ativin, earlydayminers, etc). BUY IF YOU LIKE: Drive Like Jehu, Kill Sadie, Shipping News, Shellac.
ATTENTION ALL CANUCKS; SEND STUFF TO: CANADA CALLING! c/o #2, 461 Dundurn Street South, Hamilton, Ontario, L8P 4M1. Make sure you give a return address phone #, and US distributor and/or web-site where people can get a hold of your gunk, 'kay?
Merry Christmas everybody! We'll put in a good word to Santa for yuz (cause he stops here first, doncha know), en route from the North Pole.