Canada Calling! With Your Host, Bruce "e-Mole" Mowat
This Month's Topic: In Jack We Trust
By: B.F. "Mole" Mowat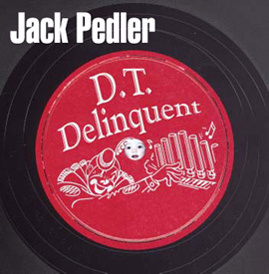 D.T. Delinquent-- is the big one for Jack Pedler. It is the second part of his "soak opera" cycle, his version of Twilight Of The Gods, the reformed rubbie's vision of the apocalypse. Gottendammerung! (no, I don't know where the umlauts are!)

All the stops have been pulled out. The horn section blares in True Stereo and Full Colour by Deluxe! The guitars go OVER THE TOP and stay there, wheedling away like mad cartoon images. The Greek Chorus of femme-backing singers punctuates Pedler's elliptical Zen koans with helium-buoyed reinforcements. Velva & Soda ..necktie party.

And right at centre stage is your hoary-voiced host, Jack. Say, Hi Jack!

WHO IS JACK PEDLER AND WHY DOES HE SING LIKE THAT?
Jack Pedler has been playing drums professionally since the 1960's. By his own tally, he has played with over 200 acts, from country to blues to jazz to punk rawk. He appeared on Teenage Head's 1988 Electric Guitar LP, which still turns up in cut-out bins from time to time. He stopped drinking (I mean heavy drinking) in the '80s, but he still likes a smoke. That's why he sounds like that--
Never mind all of that, though. This is Jack, front and centre, singing his songs in that pat.-pending gravel-gargle voice just for you. The bulk of these, and Fairyland It Ain't (part une of the soak opera) were written in the early part of the '90s, after his father passed away.
"The days of kid gloves are finito," sang Jack on Fairyland, one of the two great CDs of 1998 (the other was Lucinda Williams, Car Wheels On A Gravel Road) On D.T. we learn Why--Why does Little Bobby Hobnobby go Dumpster diving? Or hang out with Queenie, The Cocktail Queen?
The finger points to the Hippie Fascists right from the giddy-up. Sell Out Man, the money's great/ Peace! Love! Let's go to The Bank/Yip-pie/We're Hippie fascists!"
Jack is the Jiminy Cricket of Canada, the dark conscience of an otherwise complacent music scene. Sure we can delude ourselves and sing along with Shania. Ultimately, though, we too, will be held responsible for the crimes committed by the same powers that brought us the Almighty Navel.
"Uh, Pin, the Blue Fairy's not gonna like that."
J. Cricket to Pinocchio, New Adventures of Pinocchio, cheesey Canadian kids' show circa the 1960's. (As seen in the Toronto bus terminal at 5 a.m. on a Sunday morning, sometime during the 1980's)
Speaking of crimes, consider what Little Bobby does in Hot Wire. Bad, very bad, especially getting his innocent, mail-order bride involved in a Grand Auto theft racket. On their honeymoon, no less!
And what about Little Baby H?"You become the thing you hate" someone once said. Either that, or your children do it for you.
Yes, this is a recording with a message. And the message is: save yourselves. Wear the Muzzle Chop Whisker, that tin-foil hat that blocks the transmissions from the Government that control your brain. You'll thank me later. 4.5 stars out of 5 (yes, Mr. Editor, you can get half stars in Canada)
D.T. Delinquent is available in the U.S. through Allegro music.
All Song lyricss quoted copyright 2003 PedlerTunes. Used by permission.
Requiem For A King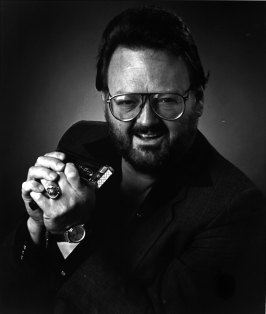 I could sit here and tell you the late Richard Newell, better known as King Biscuit Boy, was responsible for some of the goddamn greatest moments in Canadian music, blues or otherwise. I could tell you he was a supreme vocal stylist, a world-class harmonica player, and a great lyricist to boot. I mean, consider the following line from You Done Tore Your Playhouse Down (from the 1971 Good'uns CD, available through www.unidisc.com)
"You had your wig in your one hand / And your teeth in the other/You haven't looked this good in days"- Copyright 1970 Love-Lies-Bleeding Music/MCA Music Publishing. Used by Permission.
I ask you: when was the last time you heard such sure-shot verbal finery? Not friggin' lately... But never mind ME... I have the ghost of Lester Bangs here. He was YOUR country's pre-eminent critic, right? Bangs had little use for the white blues-rock acts of the late 1960s, of which Newell was, and still is, associated with. Some of Bangs' pieces in Rolling Stone and Creem made a point of metaphorically urinating on the recorded excesses of the same. This, however, is his opinion of Official Music, (the first, full-length King Biscuit Boy recording) taken from a 1970 issue of Fusion magazine:
"There are only two white blues harmonica players I care to listen to. One is Magic Dick (from the J. Geils Band). The other is King Biscuit Boy."
For a quick and accurate overview of the Biscuit's career go to http://makeashorterlink.com/?U29425D13.
One particular memory sticks out. I was visiting the Newell record room, and we were chatting about various topics. The subject of his most recent recording, Urban Blues Re: Newell (available on Stony Plain Music) came up. I enjoyed the CD, but had some reservations about the guitar-heavy sound.
"Huh," he said, scratching his head in puzzlement. "I thought (guitarist) Johnny V laid back on that recording."
"Yeah, but you have to understand where I'm coming from," I replied. "My favourite guitar solo of all time is on Slim Harpo's, I'm A King Bee."
Newell broke into a hearty belly laugh, as he knew damn well said solo consists of a sole, short note.
"I hear ya!," he beamed, and slapped me on the back.
I consider myself fortunate to have known Richard Newell.
Send stuff to: 461 Dundurn Street South, #2nd floor, Hamilton, Ontario, L8P 4M1 CANADA. To my faithful US readership (both of you!): you can send mail there too, but if it's smaller than a thumbnail, e-mailing me at [email protected] tends to works quicker.