INTERVIEW: Tim Easton
Alt-Country Star Discusses His Folk Album, "Break Your Mother's Heart" (New West Records)
By: Alex Steininger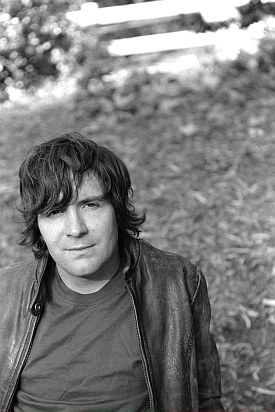 Raised in Akron, Ohio, singer-songwriter Tim Easton, best known for his rocking brand of alt-country and earthy, folk-bred songwriting, was due a record that really showed off his ability to craft poignant folk songs just as touching as his more rock-based numbers.

Easton, who writes all his songs on an acoustic guitar first, and then elaborates on them, brings this type of intimacy and starkness to his third full-length, and second for New West, Break Your Mother's Heart, his strongest collection of songwriting to date.

Bringing in veteran L.A. players to put the record to tape, including the Heartbreakers' Mike Campbell, Easton has created his most polished - songwriting and production wise - record to date.

"I was trying to give everyone direction, while still learning how to do it," Easton says of the recording process, and working with veteran musicians. "I was dealing with seasoned veterans, so the biggest problem was getting my point across. Most of the time I would just play the song and they would follow."

With each musician following Easton's lead, crafting their own parts, Break Your Mother's Heart took on a life of its own. Together, they charted Easton's songwriting in a natural direction, a direction Easton has previously explored, but never throughout an entire record like he does on Break Your Mother's Heart.

A workhorse and a man who loves touring, once the record was done, it was done. Easton had no second thoughts about it, no regrets, and nothing holding him back. As he puts it, "once the record was done, all I wanted to do was hit the road and play the record live for people. It is a year old to me, so I want to tour behind it and write new songs."

It is this kind of professionalism and enthusiasm that shines through on Break Your Mother's Heart. Its polished, rounded corners and palatable presentation just the surface, while hiding underneath is Easton's impeccable songwriting, his ability to write a cozy, fireplace melody while dredging up a teary-eyed story of someone out of place in life, or a heart-wrenching tale of lost love and deceit.

For Easton however, there is no looking back.

"I don't really listen to my records," he casually tells me. "I haven't listened to Break Your Mother's Heart since I finished it."

However, when pressed to talk about Break Your Mother's Heart and the triumphs he experienced making the record, he proudly tells you what he loves most about it.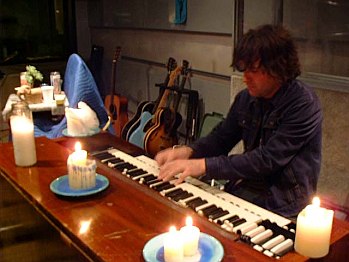 "'John Gilmartin' [a song on the record] gives me the feeling of a warm, live band and I like the singing on it," he tells me. "I also love my mandolin playing on the record. All those parts were first takes. I just went in and did them, and I'm very proud of that."
Easton, who moved to L.A. to pursue a record deal in 1999, spends most of his time on the road. Earlier this year he packed his bags and moved to Athens, Georgia, though he feels weird calling Athens home.
"I haven't lived in L.A. since last October, but I haven't been home to Athens, Georgia a lot, either, so it feels weird to say I moved to Athens," he jokes.
Recently finishing up a full-band tour in support of Break Your Mother's Heart and then hitting the road with The Jayhawks (this time only with an acoustic guitar), Easton's touring schedule seems to be booked solid throughout the remainder of 2003.
"After the Jayhawks tour I'm going to see the Flaming Lips and Bob Dylan," Easton says excitedly. "I'm taking off for two weeks and spending the time off in a van seeing music."
While most artists would use their 'vacation' time to sit at home and rest before their next tour, Easton hopes in a van to go see music, a true musician's musician. Look for him in your city soon.