Tomahawk
Mit Gas (Ipecac Recordings)
By: Alex Steininger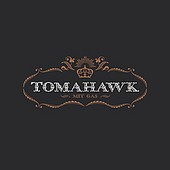 Former Faith No More member Mike Patton is a busy man these days. He runs his own label, Ipecac, and fronts two bands, Fantomas and Tomahawk. The latter, Tomahawk, just unleashed Mit Gas, a propulsive, crushing heavy metal jaunt meets lethargic, and even dreamy melodies, a stunning, sweeping combination that catches you off guard all-too-often and leaves you shaking your head in disbelief. That is, until the sound and style sets in, then the daunting, spectacular rhythms alongside the airy, spacious, and even beautiful soundscapes grow on you, both energizing and comforting you.

Featuring former Jesus Lizard/Hank Williams III guitarist Duane Denison, former Mark of Cain/Helmet drummer John Stanier, and Melvins bassist Kevin Rutmanis alongside Patton. Tomahawk's Mit Gas is a refreshing take on heavy metal, an escape from the cookie-cutter, over-produced, corporate output of so-called "heavy metal" bands these days.

Mit Gas is laden with chops, style, and substance, riding high on spooky space-rock, semi-lush pop textures, and aggressive rock. It will, in a decade, hit many hard as both the savior and re-direction of not just heavy metal, but rock in general. A diverse collective of musicians and songs, Tomahawk serves it shaken, not stirred. I'll give this an A-.