The Jimmies
This Is It (Win Some, Lose Most Records)
By: Alex Steininger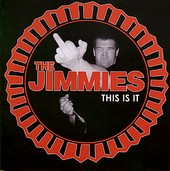 It's quite sad to say goodbye to old friends. And, sometimes, bands, through their music, can touch you like a friend, taking on an almost human-like feeling inside your heart. Longview, Washington pop-punk band The Jimmies became that for me, a band whose shows and CDs could be played loud, helping you forget your troubles, helping you escape from the madness of life, providing support and comfort like a friend.

However, with the appropriately titled This Is It, the Jimmies call it quits. Following their two previous full-lengths, Countdown and Let The Fat Men Plunder, the latter on Ben Weasel's Panic Button Records (via Lookout! Records), and numerous EPs and 7"s, the Jimmies put an end to their lengthy run, which lasted for well over a decade.

This Is It was celebrated with two CD release shows, one in Portland, Oregon, the band's home-away-from-home, and, of course, Longview.

Attending the Portland, Oregon show, I was treated to nearly the entire Jimmies catalog, as they played over an hour and a half, delivering blistering pop-punk like that had done for so many years prior. The sad part was it felt like the passing of a friend, like attending a funeral, the last time to see your friend before they dumped his/her body in the ground.

Fortunately, it was much more lively and engaging than a funeral, but the effects felt, though not quite as painful as a funeral, were similar in a lot of ways.

Playing This Is It, with instantly infectious cuts like "Plain Jane", "Automatic", "In The Restroom", "Martha", and "Come Home With Me Tonight", opens the flood gates for many emotions for me. It reminds me of all the times The Jimmies entertained me at some smoky club, all the times I stood there as they poured their hearts out on stage and brought to life a sound pioneered by The Ramones.

This Is It is classic pop-punk at its best, a record any member of The Ramones could sit back and feel proud for inspiring (unlike countless, nameless/faceless pop-punk bands out there that seem to be getting all the attention).

Which brings up the idea that if The Jimmies would have achieved the commercial success they so rightfully deserved, we might still be able to see them live today. But, as I have learned throughout life, all good things must come to an end and This Is It might be the best way for The Jimmies to go out. In their prime, at their best, delivering an unforgettable collection of sixteen sing-along anthems for the kids and adults alike.

So, it is with great sadness I say goodbye to The Jimmies, but with a smile on my face I pick up This Is It, play it loud and proud, and remember all the good times we had, and all the times they entertained me. Well-executed pop punk that deserves to be played at top volume, The Jimmies' memory will always be preserved through This Is It and their other recordings. I'll give it an A-.

To Order This CD:
Send check or money order (well concealed cash works as well) to Barry Brusseau
4201 se Adams
Milwaukie, Oregon 97222
Barry, the Jimmies' guitarist, will send you out a new cd next day first class.