Goldcard
Goldcard (Off Records)
By: Alex Steininger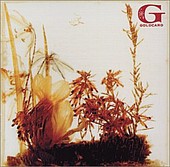 It's always sad to put on a record from your one of your favorite bands, a band you got to see live many times, as you recall all the good times, reliving the moment at home through the technology of a CD. Imagine that feeling amplified as you take a member from that band, have him record a new CD, and know he's never going to play live, the CD the only way to let the songs live, let them breath.

The latter is the case with Goldcard, the new (and last) project from former Pond guitarist/vocalist Charlie Campbell. Having recorded and toured in support of three full-length's, Pond called it quits after their label, Work/Sony, and the band terminated their relationship. From there, Campbell worked at a library, before settling on web page design as his career path.

Between Pond's demise and Campbell forsaking music, he recorded a bunch of songs. Some demos for the never-to-be Pond album, some for Off Records' Colonel Jeffrey Pumpernickel (which features Stephen Malkmus, Quasi, Lou Barlow, Grandaddy, Minus 5, and others) concept album, and others just to get out of his head with no intended home.

However, after being persuaded by Off Records' president Chris Slusarenko, Campbell finished the record and decided to put it out under the moniker Goldcard. Of course, with the reassurance he'd never have to perform it live or do anything to support it. He would later come up with the idea to sit in a box for five hours while the record spun in a downtown Portland record store, fans pushing things through the little slot in the box to get things signed or talk to Campbell.

Goldcard's magic lies in the trick, the "gimmick" as Campbell calls it. For those familiar with Pond's criminally underrated final album, Rock Collection (Work/Sony), the "gimmick" will come as no surprise. However, to others, the "gimmick" may be new.

What are we talking about here? We are talking about Campbell's ability to use a guitar, a slide, and his amplifier to create the illusion of orchestration, generating the sound of a string section without there actually being one.

Several instrumental interludes proudly display the wonders of the "gimmick", however it is on songs like the crunchy, melodic guitar rock of "Rabbit" and "Didn't Feel A Thing" that one of Campbell's other talents, his wry sense of humor, get to shine.

"Rabbit" deals with a rabbit that the cat brings inside a home, after chewing on it, Campbell instantly picking up the rabbit, nursing it back to health, and taking it into his home as one of his own pets.

"Picture Of A Horse" opens as a lighthearted pop ditty, before the guitar is turned up and busts the song wide open. Lasting all of two minutes, it mirrors many songs on the album, including the short, but infectious "Didn't Feel A Thing". A bouncy rocker that comes and goes, leaving you scratching your head as you scramble to hit the repeat button to bop and dance - and sing along - to the song once again.

"Destroy and Recreate" is laden with the gimmick, thriving on its energy, while Campbell's sensitive, reserved voice delivers a performance that, as he ponders, makes you ponder, too.

The piano pop of "It Had A Dream", using the gimmick liberally and coming together because of it, again finds Campbell trading the wry humor for a more introspective, thinking piece.

Listening to Goldcard is bittersweet. The songs are there, a lot of times in rough, under developed shells, but flawlessly executed and brought to life by the beautiful mind of Campbell. However, when listening to the album, it is sad to think that Campbell will never record another record, never sit down and write another collection of songs and, yes, never entertain us again. And so it is through the magic of Goldcard that Campbell's musical skills live on, with the idea that maybe one day Campbell will snap out of it and decide to record another record so we can hear this self-titled debut's follow-up. I'll give it an A.