Lisa-Marie Presley
To Whom It May Concern (Capitol Records)
By: Ronald Vaughan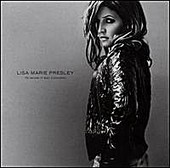 Imagine...some time ago, this young lady had her own jet, with her name painted on it with fancy lettering...She now has her own opinions, too, as sung on this album, written almost entirely by her (with some assists from Glen Ballard).

This country-pop-flavored effort starts with "S.O.B.", telling of a betrayal; "The Road Between", sung in a dark, husky voice (as befits much of the album) is a mysterious, cryptic comment on a failed relationship (?); the "hit", "Lights Out", reflects on her own mortality - and the fact that she realizes she'll join her famous father someday; "Better Beware", a tune which has a tricky shuffle beat, details a disintegrating, boring relationship; "Nobody Noticed It" chronicles the slow downfall of Elvis himself; "Sinking In" notes another romantic failure, told from another angle; "Important" discusses the importantce of values placed on relationships (such as sincerety and loyalty); "So Lovely" tells of her own children (via ex-husband Danny Keogh, who played on this CD-- this one's a slow, bluesy number; "Indifferent" reflects on the problems of fame; "Gone" details the story of yet another ex-spouse; "To Whom It May Concern", the title track, speaks out against the forced psy- chiatric drugging of children (Ms. Presley, as well as her mother, Priscilla, are members of the anti-psychiatry foundation called CCHR- Citizens' Committee For Human Rights); then, finally, the "hidden" track (occurring at the 5-minute mark after the title song), "Excuse Me", is an attempt to convey the confusion surrounding her life.

Recording is brutal, honest, and perhaps not for everyone. But as she says, "This is me."

If you want the real Lisa-Marie Presley, then check out this promising debut.