Thanksgiving
We Could Be Each Other's Evidence (Vit Vit Records)
By: Alex Steininger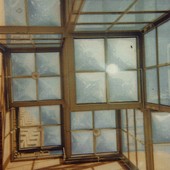 High Schooler Adrian Orange's debut record, released under his moniker, Thanksgiving, an outfit you can see live around Orange's hometown in Portland, Oregon, either as a group or as Orange solo, is We Could Be Each Other's Evidence.

Steeped in everything that could make Orange an indie darling - he's young, he's talented, and he fuses such things as blues, folk, and rock into one abstract sound - We Could Be Each Other's Evidence is the type of debut that should put Thanksgiving on the map.

Orange's vocals aren't always on key, exuding too much passion and too much enthusiasm for the songs themselves to be confined to what anyone says is natural or normal. Backed by a loose outfit that ensures Orange's songs stay sloppy, and at times ramshackle, Thanksgiving deliver a lo-fi, home spun indie-folk sound that, despite its relative inexperience, is full of depth and prowess.

The beauty of We Could Be Each Other's Evidence is that it is hip, almost hip to a fault. But nobody seems to give a damn, as they genuinely love the music and love playing the music more than everything, throwing it all out the window and going for broke as they spend all their emotions, and energy crafting a record they're proud of. And the end result is a diamond in the rough gem that shouldn't be overlooked. I'll give it a B-.