The Capitol Years
Pussyfootin (Full Frame Records)
By: Alex Steininger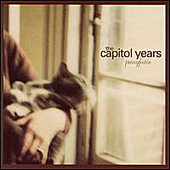 Philadelphia-based garage-rock band The Capitol Years, lead by singer-songwriter Shai Halperin, recorded Pussyfootin between 2000-2001. But, they kept it under wraps, preferring to focus on their rock songs.

However, established as a rock band, including a rave review from Rolling Stone, The Capitol Years felt it was time to show their other side.

Pussyfootin is that other side, their folk-based, rootsy-country side. Stripped away are the loud guitars, the noise, and the energy. In their place comes a relaxed vibe, a gentle demeanor, and an easy-going, carefree style that lingers long after the record is finished.

Sounding as if it was recorded on a porch in the summertime while the band drank and had fun. Pussyfootin is the quiet side to the band known for noise, and it is a welcomed departure, allowing Halperin and his crew to show off their chops, and prove they're just another rock and. They're a band with dimensions and history, and know their music. It just goes to show this band is capable of doing whatever they want. I'll give it a B.