Dead Moon
Dead Ahead (Tombstone Records)
By: Alex Steininger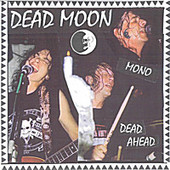 Fred Cole has been playing rock 'n' roll longer than you've been alive - most likely. From the 60s on he's played everything from soul to punk, hard rock to garage. And, yet, despite it all (or maybe because of it all), he hasn't slowed down a bit, releasing record after record of purely ingenious, minimalistic guitar, drums, and bass sounds that captivate audiences worldwide.

His long-running rock 'n' roll outfit Dead Moon has released another slab of precious rock with Dead Ahead a record that, if one were to think hard about it, could be called the savior of rock.

While homogenized, one-style-fits-all rock has polluted the airwaves and minds of the youth, Dead Moon's diverse, hard-hitting, straight-ahead, bare bones approach is as raw and innocent as it comes. Recording entirely in mono, the band, featuring Cole's wife Toody on bass and drummer Andrew Loomis, stick firmly in the past, refusing to embrace technology - both its benefits and pitfalls - and sticking to what they know.

In doing so, they re-enforce the power of lo-fi, creating music that blazes and screams, yet, on disc, sounds as if they're pulling punches. But that's the beauty of it. The band is a live experience, a live re-birth, a reason to see a live show.

Sure, they sound great on disc, as Dead Ahead attests to. From the light "An Occupation with You", its steady rhythm section and mid-tempo guitars delivering a breather before the rock hits you again, to the classic punk roar of "War Is Blind", they know how to cover the whole spectrum of rock 'n' roll.

However, in a day and age of stereo, compared to other albums, Dead Moon's sound as if they are lackluster. At least to a newcomer.

Warm up to them and you'll see it is anything but lackluster, their lo-fi credentials and dedication to keeping rock 'n' roll untainted and real is as good as it gets.

This is nearly perfect, a band that rocks harder than anyone, and has been doing it longer than most. Examine, spend time, and absorb Dead Ahead and you will feel not only refreshed but educated, schooled in a sound that uber indie kids would go nuts for had the band not have been around forever.

Call the indie rockers and hipsters on their bullshit and then pick up Dead Moon and see what real lo-fi is all about. You won't be disappointed. I'll give it an A-.